Katya Waff Grisaffi
BIArch, IDS,  Principal
National Director-at-Large – Interior Design Society 2016-2019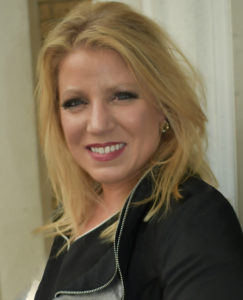 For Katya, it is not merely about designing spaces, but creating a sense of place.  Specializing in transforming client ideas and expectations into refined, articulate presentations and results that reflect their lifestyle. Katya has been practicing for over fifteen years, and is an advocate for her clients. She has found much inspiration from the design and Architecture throughout Europe that she often incorporates into her projects.
Honored as the recipient of prestigious National Design Awards, including:
2016 Chrysalis Award – First Place Kitchen
2016 Master Design Award – Gold Kitchen
2016 IDS DotY Designer of the Year – First Place Kitchen
2016 IDS DotY Designer of the Year – First Place Sustainable Design
2014 Master Design Awards – Silver Outdoor Spaces
2014 IDS DotY Designer of the Year – First Place Specialty Area
Katya's enthusiasm for design extends beyond design projects. She has also taught as an Adjunct Instructor at The Art Institute of Portland, where she taught courses in Commercial, Retail and Residential Design Studios, Advanced Textiles and AutoCAD.
Katya grew up on the east coast of the United States, originally from the Boston area, then Princeton, where she received an academic scholarship from Princeton Scholarship Foundation. She received a Professional degree in Interior Architecture from the University of Oregon, a CIDA accredited program ranked third in the Country. Katya is active in the professional design community and is the current National Director for the Interior Design Society, and has served on the Board of Directors for the NKBA, holding the position of Vice President of Membership.